Mellotron Master Tapes
Press Release, Stockholm 11-06-2014
We are very proud to offer these exclusive original Master Tape recordings that were used to produce the legendary sounds of the Mellotron.  
Unreleased Sounds
The Master Tapes offer high fidelity versions of the classic Mellotron sounds, as well as several previously unreleased Mellotron sounds and ultra-rare custom made sounds for Yes, Roxy Music, BSabbath and Tangerine Dream and more. We are also happy to finally include the charming Rhythms and Fills from the Mellotron MK I and MK II.
Rhythm and Fills
The idea behind the Rhythms and Fills were to let common people sound like professional musicians with a minimum of effort. By pressing a single key you'd have a complete old school rhythm section playing in your living room. Each Rhythm has corresponding Fills with Strings, Brass, Harps and more that fits magically together with the accompaniment.
Unique Custom made Artist Sounds
In the abandoned Mellotron storage facility in Birmingham, a number of extremely rare tapes were discovered. These sounds were custom made for bands like Roxy Music, Yes, Tangerine Dream and BSabbath specially created for use on stage, covering both leads and sound effects. 
Hear the sounds in action: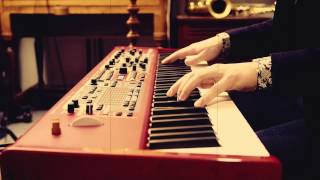 Check out Erik "Errka" Petersson having fun with some of the new sounds from the Master Tapes collection!
Download link for the Mellotron Master Tapes collection:
http://www.nordkeyboards.com/sound-libraries/nord-sample-library/mellotr...
For press related matters, contact marketing [at] clavia.se 
About Clavia DMI AB:
Clavia Digital Musical Instruments AB manufactures industry-leading digital synthesizers and keyboards sold under the brand name Nord. All technology R&D and manufacturing takes place in Sweden and all Nord products are assembled by hand in Stockholm. Clavia DMI AB has 30 employees and a turnover of 150 MSEK whereof 95 % is export sales to local distributors. The company's main markets are USA and Europe but Asia and Latin America also adds exciting and interesting new markets for our premium quality keyboard instruments.