Nord Drum 3P
Press Release, Stockholm 04-04-2016
The super compact new Nord Drum 3P combine stunning playability with unlimited sound design possibilities from the innovative Nord Drum 2. New features include Reverb and Delay effects, a simplified sound selection mode and new Sound Banks for quickly creating custom kits on the fly.
Main Features
6-channel Percussion Synthesizer
Integrated multipad, kick pad input and MIDI

NEW

Simplified user interface with easy sound selection 

NEW

Advanced sound engine with Resonant Synthesis, Subtractive synthesis and FM-synthesis
Reverb and Delay Effects

NEW

Drive, Crush and EQ-effects per channel
MIDI in/out and full CC-control
Stereo Output with improved output level 
Headphone Output with improved output level
INTEGRATED MULTIPAD AND EXTERNAL TRIGGER INPUT 
NEW
Ultra compact new model Nord Drum 3P with integrated super responsive multipad and external kick input. Weighing only 2 kg (4,4 lbs)! 
DELAY AND REVERB EFFECTS 
NEW
The great sounding global Stereo Reverb and Delay effects lets you add a whole new dimension to your drum sounds and the effect amount is easily adjusted for each drum channel.
SIMPLIFIED SOUND SELECTION AND NEW SOUND BANK
NEW
The new Sound Select-feature lets you browse a wide selection of great sounding drums sounds, simply assigned to each pad individually. Easily replace toms, cymbals or kicks in seconds by selecting from our new preset library.
The new factory sound bank features 10 categories of great preset sounds that can be easily assigned to any of the six pads/channels - and is a great starting point in rehearsal situations when you need to find the right sounds in a matter of seconds.
The categories include Kicks, Snares, Toms, Claps, Cymbals, Hi-hats, Melodic, Effects, Materials and Synth.
VIDEO
See Robert Mehmet Ikiz perform live on the Nord Drum 3P to backing tracks from his compositions.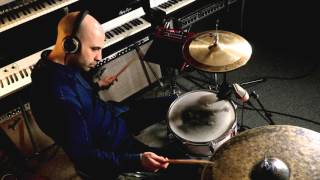 PRICING AND AVAILABILITY
The Nord Drum 3P will hit the stores in June 2016 with pricing to be announced. Like all Nord instruments, the Nord Drum 3P is handmade in Sweden with meticulous attention to detail and quality control.
PRESS PHOTOS
Click images and right-click to save image.
MORE INFORMATION
For more information please visit www.nordkeyboards.com/drum3
*All specifications subject to change without further notice
About Clavia DMI AB:
Clavia Digital Musical Instruments AB manufactures industry-leading digital synthesizers and keyboards sold under the brand name Nord. All technology R&D and manufacturing takes place in Sweden and all Nord products are assembled by hand in Stockholm. Clavia DMI AB has 30 employees and a turnover of approximately 20 MUSD whereof 95 % is export sales to local distributors. The company's main markets are USA and Europe but Asia and Latin America also adds exciting and interesting markets for our premium quality keyboard instruments.