Nord Piano Library - Mellow Upright
Press Release, Stockholm 10-27-2014
Unique new gentle soft-hammered Upright now available in the Nord Piano Library.
The latest addition to the exclusive Nord Piano Library is a large Upright fitted with extra soft felt hammers to accommodate a more mellow, dampened tone. With its gentle dynamic response the Mellow Upright is a unique addition to our Nord Piano Library, and a real gem if you have a preference for a calm, dreamy and rich feel.
Sound Demos
https://soundcloud.com/nordkeyboards/sets/mellow-upright
Sound Cloud demos: http://bit.ly/mellowupright-demos
Video
See a clip of swedish musician Erik "Errka" Petersson playing the Mellow Upright here: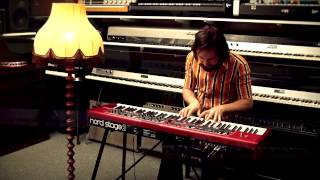 Direct link: https://www.youtube.com/watch?v=q4QSdmMHkmo
About the Nord Piano Library
The Nord Piano Library is a specialized library for acoustic and electric keyboard instruments and incorporates a number of unique technologies in order to create the most realistic reproductions of the original instruments. The library contains a wide selection of multisampled upright and grand pianos, vintage electric pianos, harpsichords and clavinets – all carefully selected for their unique characters. 
Compatible with: Nord Electro 4 • Nord Stage 2 • Nord Piano 2 • Nord Electro 3 • Nord Piano 88 • Nord Stage EX • Nord Stage Classic 
Download link for the Mellow Upright:
http://www.nordkeyboards.com/sound-libraries/nord-piano-library/upright-...
For press related matters, contact marketing [at] clavia.se
About Clavia DMI AB:
Clavia Digital Musical Instruments AB manufactures industry-leading digital synthesizers and keyboards sold under the brand name Nord. All technology R&D and manufacturing takes place in Sweden and all Nord products are assembled by hand in Stockholm. Clavia DMI AB has 30 employees and a turnover of 150 MSEK whereof 95 % is export sales to local distributors. The company's main markets are USA and Europe but Asia and Latin America also adds exciting and interesting new markets for our premium quality keyboard instruments.